"I didn't consider the triangle". And you were wrong, I will tell you, because in bikepacking it is the first element to consider. In this article we will see the various types of specific bicycle frame bags (but not only) for bikepacking, with an overview on the criteria for choosing the most suitable bag for you and a collection of the 15 best bikepacking frame bags on the market.
Bicycle frame bag: the forgotten one
When it comes to bikepacking, the bike dressed in the complete kit immediately comes to mind with saddlebag, handlebar bag, Gorilla Cage to the fork and finally, only finally, the frame bag. But few think this should be one of the first – if not the very first – to buy when creating your full set of bikepacking bags. Why neglect it? Perhaps because we believe we have to carry a lot of material and therefore we focus on the saddle bag… perhaps because we want to have access to objects or clothing and therefore consider first a handlebar bag.
So remember: first the center, then the periphery!
What can I carry in the bikepacking frame bag?
There is – of course – no rule and, as in many other cases when it comes to cycling or bikepacking, it depends on what type of traveler you are, how long you will travel and what your habits, priorities and equipment are… As I mentioned before, this accessory is to be considered as a priority when buying in a complete kit for bikepacking. For short rides, in fact, you will only need the frame bag, a handlebar bag and one or two top tubes or headsets. The saddlebag comes next, when you plan on stopping outside to sleep and need more volume, as well as more volume.
The central area, together with the headset bags and handlebar bags, is by far the most accessible, so you can cram clothes or tools for the repairs you will need while pedaling or a power bank to charge your technological trinkets. For example, both on the bikepacking trip to Latvia and the bikepacking trip to the Peloponnese, I transported a drone, leggings or arm warmers, a windbreaker, a k-way, a power bank and sometimes food in the bikepacking frame bag.
Bikepacking frame bags: features and parameters
There are many features to consider when buying a bicycle frame bag. The main aspect to evaluate is the space we have, that is the triangle created by the frame tubes. This is the parameter from which we absolutely cannot escape. Everything else is the details, the materials, the internal separation structure, the closure, the lining, the straps, the velcro… a universe of kevlar, nylon, TPU, cordura, laminates and technicalities.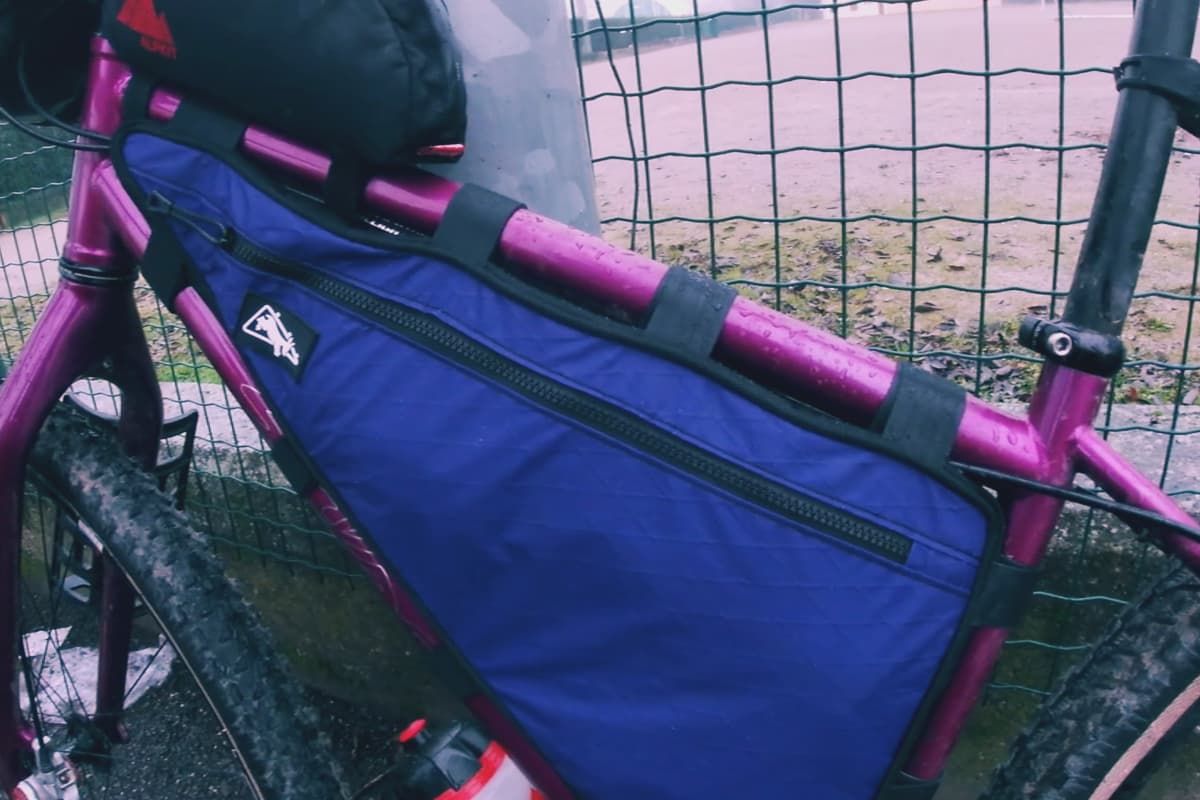 We will never get tired of saying it: "Everyone does his/her own bikepacking". Once we've clarified the type of trip we face or will face, the height of our saddle (which can therefore exclude some types of bags), the amount of material we want to carry in the frame bag (just like when choosing whether to undertake a trip in bikepacking or classic cycle touring mode), below we find the main characteristics to be examined for the difficult choice.
Size and capacity
As we have already said for the handlebar bag and the saddlebag, in bikepacking size matters! The bikepacking frame bags allow you to load from a few liters up to ten or more. Obviously, ça va sans dire, this aspect is bound by the dimensions of the frame and will affect the weight you carry with you.
Waterproof materials
There are various materials that make up these bikepacking frame bags, from nylon to TPU, passing through polyester and cordura… almost all of these bags are waterproof, that is, they prevent the materials or clothing contained from getting wet. If your bag is "only" water resistant, you can always use the "bag technique" and pack objects and clothing that you put in the frame bag, to waterproof them.
Bag closure
As for this type of bag, we mainly have zip closures (single, double or even triple, like mine for example). Keep in mind that the zip is the most delicate part of the bag so it must be treated well during use and requires careful maintenance over time. This will allow us not to find ourselves with the zipper in hand, worn by dust and mud. WD40 and a cloth can help in cleaning the zip. In some cases – more rarely – the closures are a roll (literally "rolling up", in the upper part).
Half or Full, this is the dylemma!
There is not much to say here except to choose your frame bag based on two factors: necessary capacity and alternative spaces for the bottles. Keeping in mind that usually the frame houses 1, 2 or 3 bottles, dedicating more space to the bike frame bag, we will have to find alternative solutions to transport the water on our outings or trips; for this reason, make your choice well: a half frame bag is the right compromise and allows you to carry 1 or 2 bottles, resulting "hanging" from the upper tube. If, on the other hand, you need more space for your equipment and you choose a full frame bag, think about the positioning of the bottles (usually under the down tube, on the handlebars, on the rear stay – free your imagination!).
Price
Last but not least: there are bags from a few tens of euros up to hundreds, so for every pocket. Our mission at Life in Travel is to dispel the myth of "the more you spend, the less you spend", even if in some cases some really cheap "trinkets" from bikepacking have turned out to be total cr*p, while higher quality products, and therefore more expensive, usually translate into better ones.
Warning! It is not a universal axiom, although I usually recommend that you be wary of gifted items.
Bikepacking frame bags on the market
Before going into the list of bikepacking frame bags, I have to name some brands that will not be included in the same, due to the difficulty of finding the products or due to the lack of information relating to them. In this mention, in addition to many others not considered, I therefore include Crivit (LIDL brand already reviewed by Vero), WAG, Arkel, Oveja Negra, Porcelain Rocket, Specialized and Bedrock. Once all the main aspects of the bikepacking frame bags have been considered, below you will find 13 of the best models available on the market (sometimes with relative variants, so in reality 15!), With a comparative table that summarizes the main features and pros and against each brand. As for prices, the Italian market, and more generally the European one, sometimes do not offer the indicated product and therefore we refer to the price in dollars of the American market or in pounds of the English one.
LOMO Bike Frame Dry Bag
As I stated in an article dedicated to this bikepacking frame bag, "Lomo makes things waterproof". Small (even too much), not very large, 100% waterproof, double pocket, certainly suitable for any frame given its small size, economical. Excellent as a test to understand a little better the world of bikepacking bags, even if there is better on the market.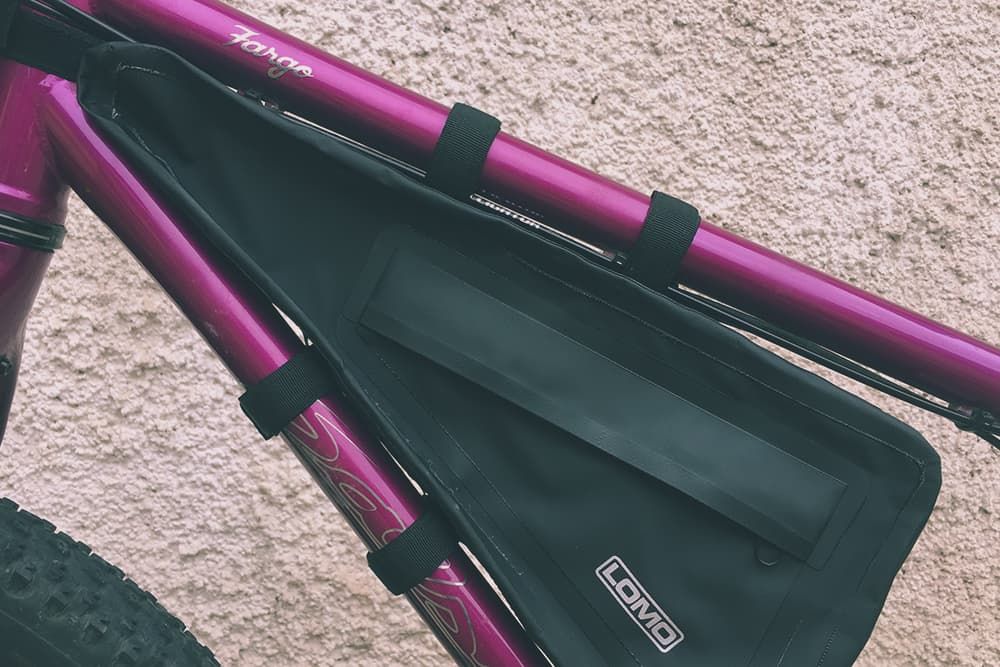 MISS GRAPE Internode 46.2
In addition to appearing in the bespoke section below, here are three versions for this Internode half frame, 40.6, 46.2 and 50.6, with capacities starting from 3.4 liters up to 5.5, to fit almost any frame. This bikepacking frame bag never takes it out on you: if you fill it it inflates, if you keep it empty it doesn't complain. Stable like a circus performer, firmly fixed to the frame, it will gladly contain any instrument or item of clothing that is quick to use.
SALSA EXP Series Framepack
Excellent for combining with a Salsa frame (Fargo, Cuttroat, Woodsmoke, Timberjack, Mukluk, Blackborow): just choose the frame bag corresponding to your size and from the manufacturer's website and the suitable product will be shipped. For fixing we have a mixed solution of velcro and elastic on the upper tube. For some bike models the fixing is screwed and directly into the eyelets of the frame.
ROCKBROS Bikepacking Frame Bag
Waterproof, cheap, compatible with many frames… Yes, but it is extremely small and rigid, it seems very little roomy. Let's say you can consider it if you are undecided about bikepacking and don't want to spend too much. But I would say that there's better items than this.
REVELATE DESIGNS Tangle
Together with the sisters Ranger, Hopper, Full Suspension and Ripio, the legendary Tangle from Revelate Designs has been teaching for years in the field of bikepacking frame bags. The small but very stylish bag, available in 4 different sizes, has few frills: three upper fasteners, two rear and two oblique, a single zip, water resistant material and limited volume.
ACEPAC Roll Frame Bag M
These Czechs are really good: a minimal and functional bikepacking frame bag. A half frame with velcro fastening, roll closure and single central closure clip to embrace the bag. Available in two versions, M and L, and two color combinations. The closure turns out to be its peculiarity: compared to the zip, a roll bag can be filled more… but be careful not to overdo it, or your right leg will have a close encounter with the closure clip at each pedal turn!
ALPKIT Possum 47
With a sinuous shape, available in 3 sizes and 6 different colors, this half frame made in UK can accommodate your objects and (very few) items of clothing for quick use. Waterproof, minimal fastening with a velcro so aggressive that even the most calm bikepacker can get nervous (you stick to the pad when you get off the saddle…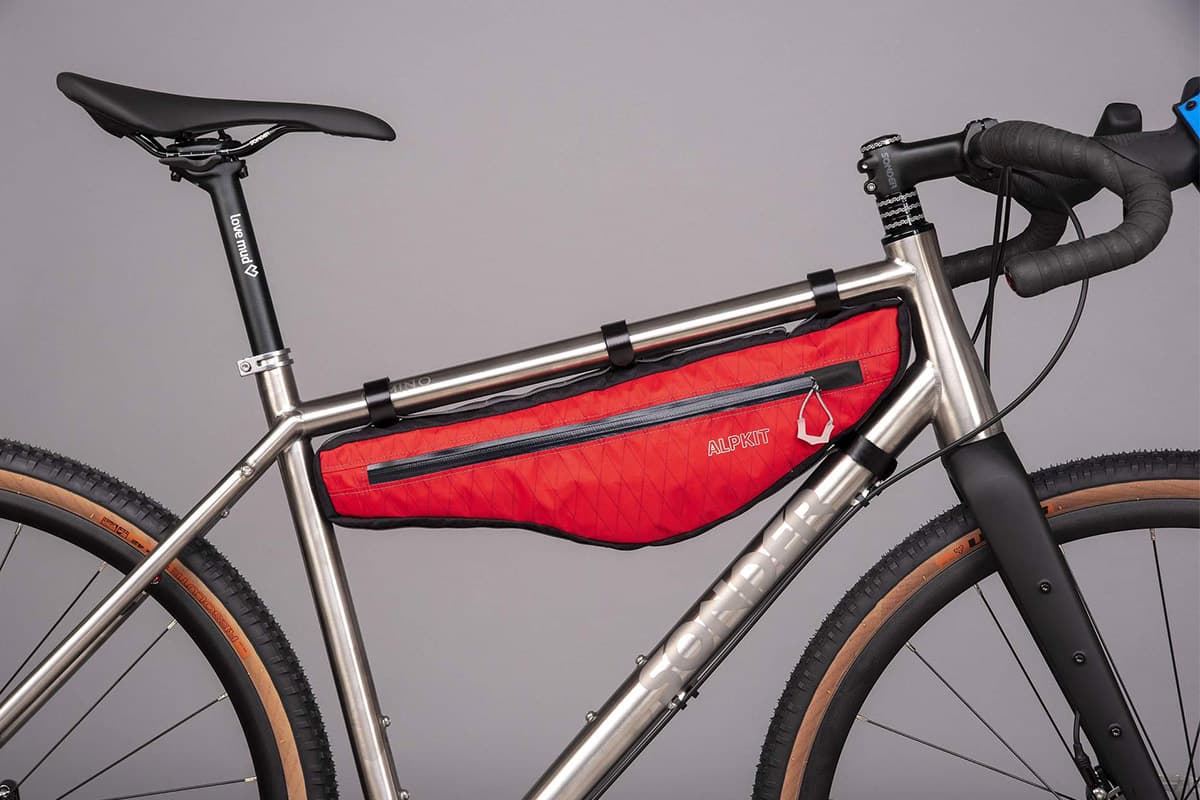 APIDURA Expedition Frame Pack
Some genius designed the Apidura website, which allows you to check directly the capacity and compatibility of their frame bags by entering your bike model. Another gem of these bags is the presence of an internal pocket to further separate the contents. In addition to the half frame, if you want to take advantage of the whole triangle of the frame (and you have a high budget) you can think of the full frame, with double hinges and exaggerated capacity.
ORTLIEB Frame – Pack Toptube
Warning! It's called Toptube but it's not, otherwise I wouldn't have included it in this article dedicated to bike frame bags. Medium capacity, unmistakable orange on black line by Ortlieb, I'm a bit in crisis with the hinge on the left side instead of on the right… but I think it's just a matter of habit. Ability to switch to full frame, much larger.
RESTRAP Frame Bag M
Available in 5 versions, not as elegant as the handlebar bags from the same company. Still a good product: internal pocket, 5 velcos, reinforced zip.
TOPEAK Midloader 6L
Available in two versions, 4.5 and – paradoxically more expensive – 6 liter, this modest bike frame bag seems to perform well in any situation. Equipped with a double zip to access the same single pocket (?), it follows a line of simplicity and efficiency. Good value for money.
VAUDE Trailframe
With a decidedly curious shape and a particular chromatic offer (black and bright green, like the sisters for handlebars and saddle pads), this product of the German giant allows the transport of a good amount of objects or clothing. The thing that does not convince me is precisely the structure of the bike frame bag: it is a bag that embraces the frame, with fastening to hooks and straps… Unenthusiastic reviews speak of knees touching it and hinges that are too yielding.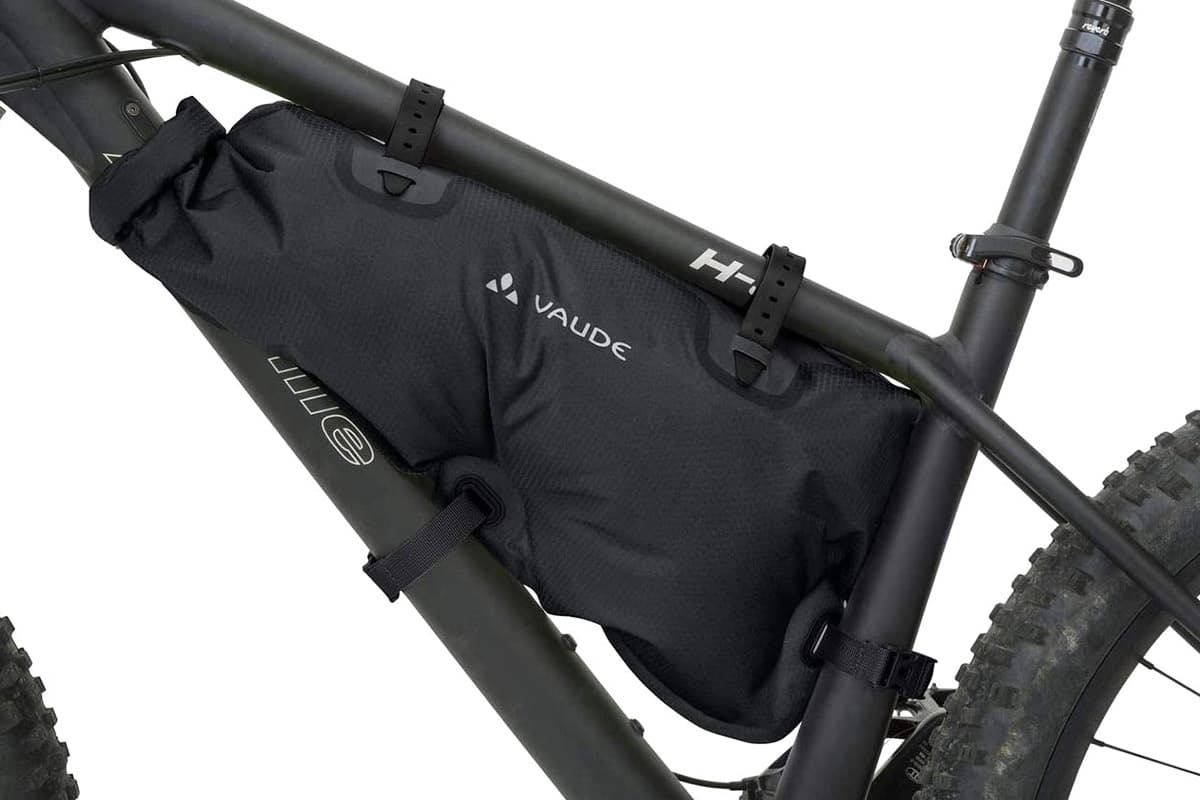 BLACKBURN OUTPOST Frame Bag M
In addition to the Elite full frame sister, this half is available in three sizes (S, M, L). Its peculiarity is the possibility of being expanded to gain some space and liters for additional objects or clothing or for a water bladder, as Blackburn Outpost suggests. Good product for beginners.
Bikepacking frame bags: italian tailor-made products
As mentioned above, how many frame shapes are there in the world? Countless! At least 3-4 sizes for each bike model, plus all the custom-made frames, each with different geometries… It therefore seems right to me – here even more significant than for handlebar or saddle bags – to dedicate some space to of brands that prefer to create tailor-made products, allowing us to take advantage of the entire triangle of the frame. Let's stay on our beloved peninsula and talk briefly about Miss Grape, Kicking Donkey and Rusjan.
Miss Grape
Nure's brand is placed both in this category and in the previous one, offering both customized bags and standard sizes (which we will see below). Elastics, straps, zip or roll closure… Total customization: you give him the measurements of the frame and he will dress your bike with a marvelous bag, almost as capacious as the Mary Poppins clutch. Estimate an important expense. Look how beautiful on the Westlander di Stelio!
Kicking Donkey
Another great brand known above all for tailor-made production to best fit your bike. At a rather low cost, you can choose the materials, customize the colors, decide how many pockets, zip with or without cover, fastening to the frame with elastic or velcro… Take a look at the colorful examples on the Kicking Donkey website, it will be a mystical experience. I had the opportunity to use Roberto's product and the Kicking Donkey brand and I am still very satisfied.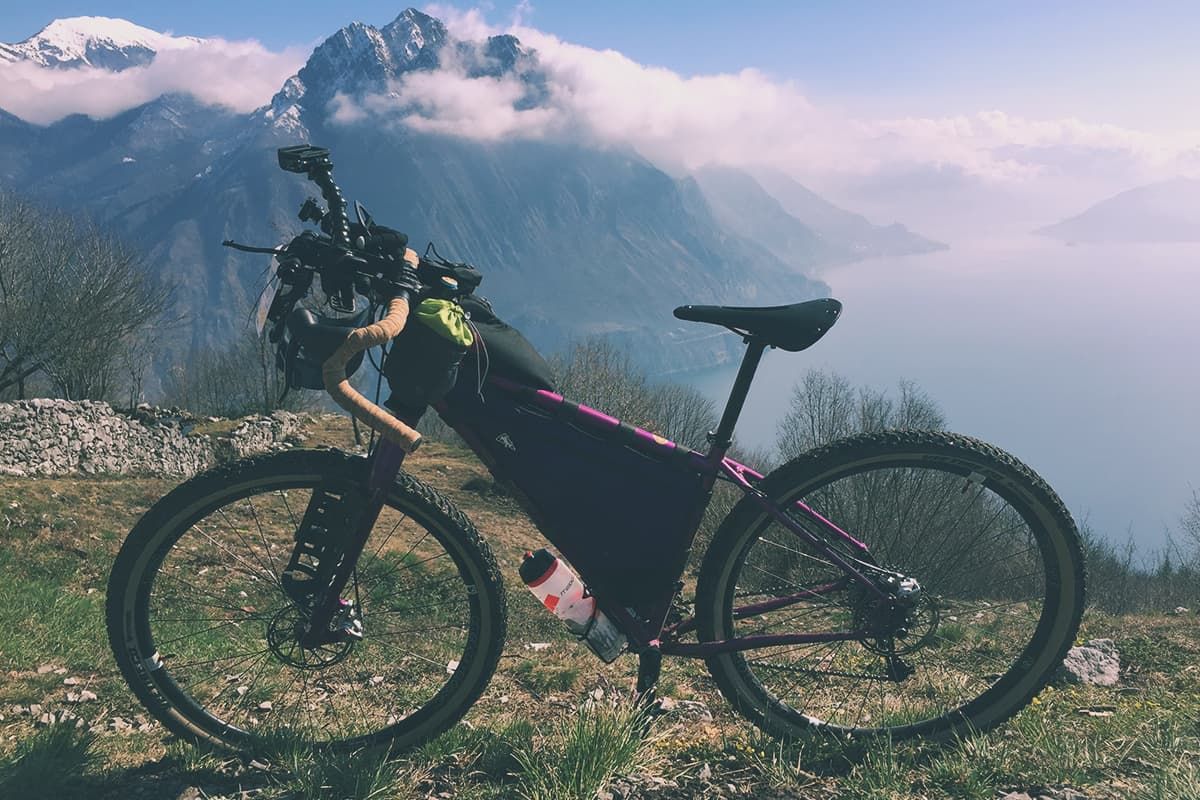 Rusjan
We have already mentioned her for the other types of bags: Lucy Rusjan specializes in taylor made. More and more are those who contact her to dress their frame (and not only!) with spatial materials, customizing the bags with innovative systems and choosing the size, the number of zips, the finishes… 100% waterproof, super recommended, expensive as hell, they are worth all the expense!
These are "only" 15 bikepacking frame bags that you can find on the market in Italy and Europe, but the offer is even wider. If you want to browse all the frame bags available on the market, What frame bag do you use?
Source liveintrave.it